TÜRKİYE AB REACH ve CLP İLE KİMYASAL KANUNLAR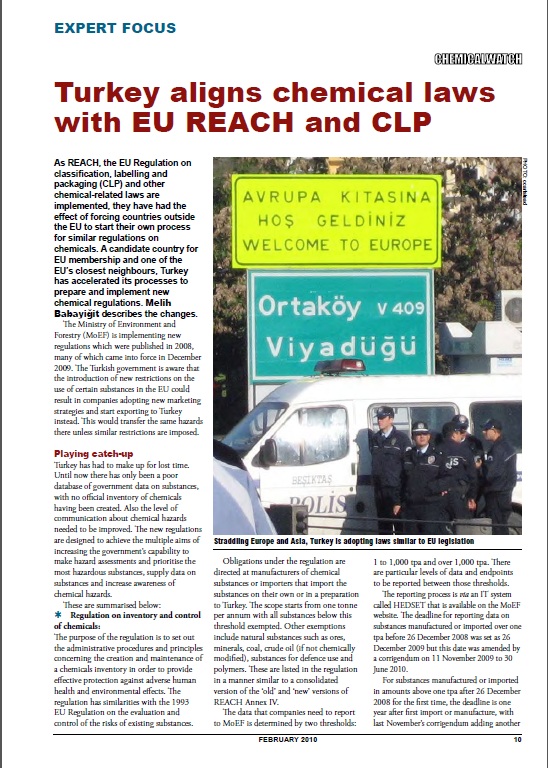 Chemical Watch - 2010 Şubat Sayısı

As REACH, the EU Regulation on classification, labelling and packaging (CLP) and other chemical-related laws are implemented, they have had the effect of forcing countries outside the EU to start their own process for similar regulations onchemicals. A candidate country for EU membership and one of the EU's closest neighbours, Turkey has accelerated its processes to prepare and implement new chemical regulations. Melih Babayiğit describes the changes.

The Ministry of Environment and Forestry (MoEF) is implementing new regulations which were published in 2008,many of which came into force in December 2009. The Turkish government is aware that the introduction of new restrictions on the use of certain substances in the EU could result in companies adopting new marketing strategies and start exporting to Turkey instead. This would transfer the same hazards there unless similar restrictions are imposed.

Playing catch-up
Turkey has had to make up for lost time.Until now there has only been a poor database of government data on substances,with no official inventory of chemicals having been created. Also the level of communication about chemical hazards needed to be improved. The new regulations are designed to achieve the multiple aims of increasing the government's capability to make hazard assessments and prioritise the most hazardous substances, supply data on substances and increase awareness of chemical hazards.
These are summarised below:
Regulation on inventory and control of chemicals:
The purpose of the regulation is to set out the administrative procedures and principles concerning the creation and maintenance of a chemicals inventory in order to provide effective protection against adverse human health and environmental effects. The regulation has similarities with the 1993 EU Regulation on the evaluation and control of the risks of existing substances.
Obligations under the are directed at manufacturers of chemical substances or importers that import the substances on their own or in a preparation to Turkey. The scope starts from one tonne per annum with all substances below this threshold exempted. Other exemptions include natural substances such as ores, minerals, coal, crude oil (if not chemically modified), substances for defence use and polymers. These are listed in the regulation in a manner similar to a consolidated version of the 'old' and 'new' versions of REACH Annex IV.

The data that companies need to report to MoEF is determined by two thresholds:
1 to 1,000 tpa and over 1,000 tpa. There are particular levels of data and endpoints to be reported between those thresholds. The reporting process is via an IT system called HEDSET that is available on the MoEF website. The deadline for reporting data on substances manufactured or imported over one tpa before 26 December 2008 was set as 26 December 2009 but this date was amended by a corrigendum on 11 November 2009 to 30 June 2010.

For substances manufactured or imported in amounts above one tpa after 26 December 2008 for the first time, the deadline is one year after first import or manufacture, with last November's corrigendum adding another two months to this deadline.

Although only seventeen criteria have to be reported for substances from 1-1,000 tpa, there is a much longer list of endpoints to be reported for the substances in the higher tonnage band. In addition, the ministry reserves the right to ask for additional information for the 1-1,000 tpa depending on the results of its hazard assessment and prioritisation of substances.

The regulation also allows manufacturers to make a joint submission of data for the substances over 1,000 tpa if they can mutually agree on that.Many manufacturers that export substances or preparations to Turkey are seeking to appoint a representative or a compliance consultant as a trustee to submit data reports to the ministry on their behalf without sharing the ingredient information with their clients or importers – other than the specification of hazardous chemicals on safety data sheets. However, it should be noted that under the legal text there is still no clear definition of a representative and it remains ambiguous – just as it is for exporters to the EU under the classification, labelling and packaging (CLP) Regulation – how companies can ensure compliance with the Turkish law and at the same time safeguard confidential business information. The European Chemical Industry Council (CEFIC) is due to meet the Turkish authorities in February to discuss this issue among others.

Regulation on classification, labelling and packaging of dangerous substances and preparations:
The regulation was published on 26 December 2008 and came into force on 26 December 2009. It is very similar, with only small nuances, to the obligations of the former EU dangerous substances Directive (29th adaption) and of the former EU
dangerous preparations Directive.It requires all substances and preparations containing those substances to be classified according to the regulation. The key difference is that companies must use Turkish chemical names, and the R and S phrases that are indicated in the Annexes to the regulation.

Regulation on safety data sheets for dangerous substances and preparations:
Regulation 27092 dated 26 December 2008, came into force by 26 December 2009 and sets new requirements for drawing up safety data sheets for dangerous substances and preparations.These are largely based on REACH Annex II and an amendment is expected soon to align the regulation with the latest revisions to this, for example, the inversion of sections 2 and 3 (8 CW 10 December 2009 ). This could create problems for Turkish producers, which will have to prepare different safety data sheet formats for the local market and for exports.For the composition and information oningredients section, the chemical names,especially for the substances that are listed in Annex II of the Turkish regulation on classifications , should be in Turkish.In addition, those writing safety data sheets are required to have been certified to do so by an official accreditation body. An e-copy of all safety data sheets mustbe submitted to the MoEF when products are on the market. This also applies to imports.

Regulations in the pipeline:
To further align Turkish and EU laws, the government plans to publish further regulations very soon which could be compared with SEVESO II, the CLP Regulation (possibly by the end of 2010) and the requirement to fully register chemicals as under REACH with added obligations to provide missing test data and information on use, exposure and risk management measures (possibly by mid-2013). A consolidated regulation on cosmetics and detergents is also in the pipeline.

It seems clear that 2010 and subsequent years are likely to be a challenge for chemical manufacturers all around the world, including Turkey!Melih Babayiğit is general director of regulatory consultancy Cambridge Risk Analiz Denetim (CRAD) based in Turkey.

Safeguarding confidential business information is an issue for exporters and importers under the chemicals inventory regulation.